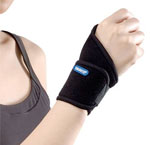 Together with back pain, using computer, computer mouse or exercising (your wrist such as playing tennis or golf) too much and repeatedly day by day without proper support and resting will gradually stiffen the muscle around your wrist and cause wrist pains. The pain will likely go away naturally if you stop doing these same repetitive activities everyday; however, more often people just cannot afford to have that kind of time off for the wrist to heal.
Wrist pain can seriously affects your work and your daily activities as besides the irritating pain, you may also lose the power of your grip. Your hand and fingers become less flexible, making some simple activities like holding things, turning door or car keys, typing, writing etc. suddenly become harder and painful.
If you think the pain is associated with repetitive tasks, below are some gift ideas that may work for you or your friends or loved ones. As always, if possible, consult with your doctors first. For all the products below, it's best to spend some time to read what other people have to say about using them.
Back pain, neck and shoulder pain may cause by your sitting posture, your desk, chair and tools used at work. Since prevention is better than cure, I've started a series of posts focusing on the topic of ergonomics. Here you can find content varying from basic knowledge to help keep yourself pain-free plus some good and practical products / gifting ideas to use or share with your friends and loved ones.