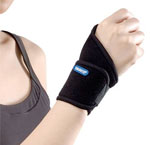 I have a post about carpal tunnel syndrome causes and relief, in which I briefly mentioned some products and gift ideas that are recommended for those with carpal tunnel pain. This post goes into the details of best and most practical gift ideas for someone who's suffering from carpal tunnel pain.

Carpal tunnel pain and wrist pain can seriously affects your work and your daily activities as besides the irritating pain, you may also lose the power of your grip. Your hand and fingers become less flexible, making some simple activities like holding things, turning door or car keys, typing, writing etc. suddenly become harder and painful.
Blow are some gift ideas that may work for you or your friends or loved ones. As always, if possible, consult with your doctors first. For all the products below, it's best to spend some time to read what other people have to say about using them.